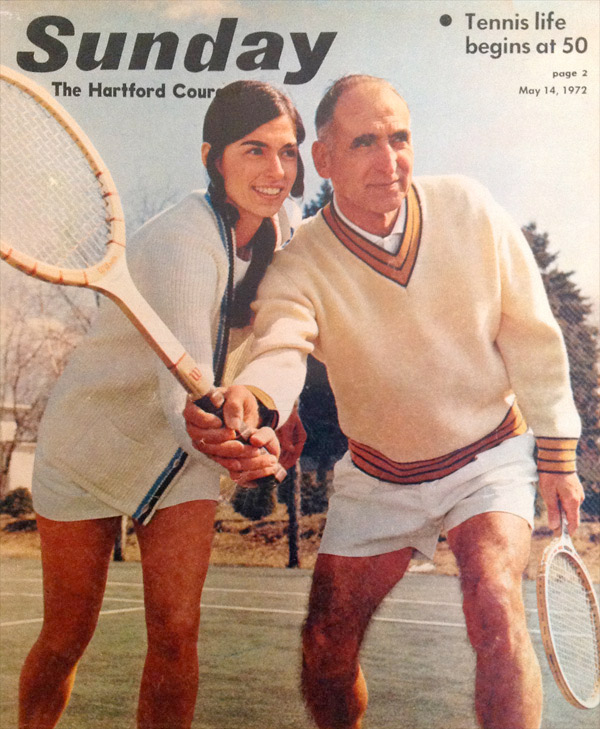 Tennis expert plays it by the book
By Frank Mastrandrea, Hartford Courant
GLASTONBURY -- Victor Tantalo didn't pick up a tennis racket until he was 50 years old.
Now, at 72, Tantalo is in the midst of a nationwide tour to promote his book, "USA Tennis Course, " which presents tennis in a comprehensive lesson plan not unlike most high school or college texts.

"Subjects hundreds of times more complicated than tennis are all taught from books, said Tantalo, a native of Glastonbury who resides in Orlando, Fla. "Furthermore, they're taught by professors or teachers who have all sorts of teaching degrees, none of whom would ever dream of giving a course in anything without a book. Tennis can be taught in the same way."

The book is divided into 25 lessons dealing with everything from how to hit forehands and backhands to how to prepare for a match or play in the sun. Yet Tantalo says the book should not just be read once and put on a shelf.

"The book is set up so that any problem, tactic, stroke, or pychological aspect of the game can looked up in the index, like using a dictionary. The book then itemizes the various problems and gives the solutions."

Both the book and Tantalo are hot properties.

Last week he received a letter from the Hawaii Board of Education saying the book has been placed on its list for use in schools. Tantalo also received word that the Navy is purchasing the book for its bases.

Tantalo is also negotiating to syndicate his book in a newspaper column.

And for Tantalo, this is just the beginning.

"What we're striving for, more than anything else, is to help make tennis a really big sport for the (general) public," he said. "Tennis has always been sort of an elitist sport. How many people can afford to take the number of lessons required from a tennis pro to get a sound tennis education?"
Tantalo's tennis education began when he was searching for a new career. But he says age played no part in his decision to try tennis.

"I don't think about how old I am," he said. "I do what I want to do. If I want to go out in the backyard and throw a football around, I'll do it.

"I knew I wanted to stay in sports,"said Tantalo, who ran and competed in horse shows 20 years. "I was daydreaming in my office one day and I remembered that a friend of mine always told me what a great sport tennis was. I called him up and asked him where the nearest court was."

Tantalo has a history of sudden career changes -- he has worked in department store retailing and had his own retailing business, as well as his horse show endeavors.

"I hadn't been on a horse before I was 30," he said. "But then I got into jumping."

Tantalo eventually set up the book of rules for horse shows in the state that is still in use today.
After taking up tennis in 1965, Tantalo turned pro in 1970 and began giving lessons. By 1978, he was featured in Tennis Magazine in a piece titled, "The Secrets of the Busiest Pro."

It didn't come easy though. Tantalo took lessons nearly every day for five years, and experienced frustration like any other beginner.

"No one was a bigger turkey than Victor Tantalo," he said of his first lesson.

"Everybody starts out the same way when you don't have the knowledge to play the game. It doesn't mean you don't have the capability to play, you just lack the knowledge."

Once he acquired the knowledge, he began to teach, and his years of teaching were the inspiration for the book.

"I don't have to be on the tennis court to explain to you what a proper grip is for $25 or $35 an hour," he said. "I can show you that in my living room."

It took Tantalo 10 months to prepare the basic manuscript. He then spent the better part of six years rewriting and editing.

"I put everything I had into that book," he said. "I started my own publishing company to print it. If you just multiply by six years any figure of annual income you want, you'll have some sort of idea of the investment I made. Had I dreamed it would take six years to do it, I probably wouldn't have done it."

A quicker, more efficient way to learn tennis is one reason Tantalo believes his book can draw more people into the sport.

"There's very few things that you can do in a short period of time," he said. "Tennis should fit into everybody's life. All you have to do is pick up a racket, put on a pair of tennis shoes, get some balls, go out to a court and in an hour or two you can have a great time and get some exercise."

Even if he believes that his book will be good for the sport, he has found that not everyone is ready to agree with him.

"Whenever you try to bring in something new you get resistance," he said. "But maybe that's what makes it worthwhile. There's nothing like hitting your head against a stone wall -- and I certainly have a lot of dents in mine."

But it has been worth it.

"The sport has been wonderful to me," he said. "And I think everyone likes to put a little bit back into something they love."
The Hartford Courant, Sunday, July 26, 1987
---
Teacher and his book... just what the game needs
by Melissa Isaacson, The Orlando Sentinel
It is difficult to figure exactly where Victor Tantalo gets his inspiration. But some of it comes from a rumpled Wall Street Journal article he often refers to, which documents a 33 percent decrease in tennis participation in this country over the last decade.

Tantalo, 70, of Orlando, has been teaching tennis for 15 years. He started five years after retiring as a management consultant for retail stores, and picking up a tennis racquet for the first time.

He began teaching, in part, because he didn't agree with the methods of the pros he met. He blames those methods for the decrease in tennis participation since 1976, when the tennis boom was at its peak.

"One of the reasons the tennis establishment says is causing the high dropout rate is the difficulty of the game," Tantalo said. "The game isn't difficult. The way the game is taught is difficult and the way the tennis world is doing it is committing slow suicide...

"I think that people left the game because it left them with a bad taste. You might say they were exploited. They were putting 18 to 20 people on the tennis court and trying to teach them."

His strong disagreement with that philosophy is the basis for Tantalo's teaching and his book, USA Tennis Course, an instruction manual that he recently completed after more than six years.
Tantalo breaks the game down to its simplest form. He believes every stroke is the same. That any movement on the court is inherent to any human being and that as a result, anyone can become proficient.

The book retails for $24.95 in hardcover and $14.95 in paperback, and reads like an overly simplified textbook.

Any lesson with Tantalo begins with a sit-down session, talking through what to do on the court. He believes in "programming" his students. "The time will come when many parts of the game will be taught in a classroom," he said. "If you want to become a doctor, a scientist, an engineer, you learn in the classroom. Then you take your knowledge into the laboratory, or the real world. It shouldn't be any different in tennis."

He also believes the ideal way to learn the game is to study it daily.

When he teaches, he will only take individuals (for $35 an hour). He points out the benefits of individual instruction in his book by calculating that during a 60-minute lesson with six students in a class, each individual spends 100 seconds on each stroke.

He gets a great deal of enjoyment from comparing his book to rival publications like Vic Braden's Tennis for the Future.

This is what Braden has to say about consistently hitting the ball too long: "Either your shots have insufficient topspin -- in which case you must increase the angle of your low-to-high forward swing -- or the bottom of your racquet is leading (which means the racquet face is tilting up)."
Tantalo says, "The harder the ball is hit, the lower the trajectory must be."

I had the advantage of being able to read the book as well as being instructed by Tantalo. In real life. Somehow the words in the book come alive a lot more when someone is reciting them while feeding you with perfect shots to your backhand.

But he is fine teacher. He calls it magic when someone progresses at a rate that surprises them. I must admit, even in "street shoes" uncomfortable even in the best of conditions -- perched under a desk -- and clothes not befitting tennis, much less tennis in 95-degree heat, I progressed.

It's just too bad Victor Tantalo doesn't come along with a copy of his book.

The Orlando Sentinel, June 8, 1986
---
Hotselling New Tennis Book
By Ray McNulty, The Florida Times-Union/Jacksonville Journal
Victor Tantalo remembers his first tennis lesson. He was fifty years old and had never played the game.

It should have come as no surprise that he was awful. But Tantalo, who played baseball and football as a youth, thought he would at least be functional with a racket in hand.

"If I hadn't been so bad in that first lesson, I probably never would have gone back," Tantalo said. "But I was so bad that I had to keep trying."

That was 21 years ago. Friday, Tantalo was at a local bookstore pushing his new book, USA Tennis Course -- an illustrated text that the author says will revolutionize tennis instruction in the U.S.

"It never made sense to me that, no matter what you want to learn in this country, you learn from a book," said Tantalo, 71, a teaching pro in Orlando since 1971. "Subjects hundreds of times more complicated than tennis are all taught from books. Why not tennis?

"You can take lessons, but the average person takes what, one or two hours a week? You also need something you can refer back to when you're not on the court, so you can see what you're doing wrong and correct it."

That's the purpose of USA Tennis Course. One of them.

Tantalo said his book, which took six years to write and went on sale last May, can be used in a variety of ways: in conjunction with tennis lessons; as a self-teaching tool; or for one family member or friend to teach another.

"During the five years I was teaching, I realized it was crazy the way we teach the game," Tantalo explained. "We give a lesson for an hour, and then don't do anything until the following week. And there's nothing to help the student prepare for his next lesson.

"Anyone knows, the best way to learn something is to work on it as close to every day as possible. Most people can't play every day, but if they have this book, they can go over what they were doing on the court and see how to improve it.

"This is not a book to be read and then put on a bookshelf. It should be used as a constant reference."

In fact, Tantalo claims you don't even need to take "expensive lessons from a pro" for his book to be helpful. Indeed, a big reason for writing the book is to encourage more people to play tennis.
"Tennis lessons are expensive; not everyone can afford them," Tantalo said. "That's a big reason why so many people have dropped the game."

"With this book, you can teach yourself how to play without taking lessons. The bulk of this book deals with how to play the game. It also teaches how to teach.

"I want to bring tennis back to the general public and shed the image that tennis is an elitist sport."
That, in turn, will help the U.S.'s effort to produce more highly ranked pro players.

"From a percentage viewpoint," he said, "the more people who come into the game, the more great players you've got a chance to develop."

The 202-page book, which sells for $24.95 in hardcover and $14.95 in paperback, does not read like a textbook. The lessons are explained in simple terms, and are well-diagrammed by Tantalo's wife, Anne.

USA Tennis Course covers everything from the serve to the volley to forehands and backhands. Problems are identified and solutions are offered.

There also are chapters on how to learn, and a chapter on match preparation.

"Even if you don't have a coach, this book will program you to become a better player," said Tantalo, who took lessons full time for five years before becoming a teaching pro in Hartford, Conn. "The book is set up so any problem, tactic, stroke or psychological aspect of the game can be looked up in the index. It's like using a dictionary."

The book is a hot-selling item in bookstores, especially in Florida. It is on sale at B. Dalton Stores in Jacksonville.

"The book is selling well, better than any of the other tennis books on our shelves," said Todd Chavez, manager of the B. Dalton store at the Jacksonville Landing. "It's doing well in all our stores in the Florida region."

Tantalo has focused on bookstores and libraries, although Payne College in Augusta, Ga., has ordered it for its physical education department. Next, Tantalo said, is to push the book in schools and with tennis pros.

He said he also will be marketing the book overseas.

"Eventually, once the book gets a bigger reputation, I expect to sell millions of them," said Tantalo.

"But I'm not just doing this to sell some tennis books. This is my legacy to the game."

The Florida Times-Union/Jacksonville Journal, November 22, 1987
---
It's never too late to learn in his book
By Frank Szivos, Telegram Staff Writer
City native shows how simple tennis can be -- even after 50
The next time you hit a tennis ball screaming in the net or two feet beyond the baseline, remember this is a simple game. At least Victor Tantalo thinks it is and has written a book to explain why.

So who is Tantalo -- one of those foreign tennis players on the professional tour? Nope.

Maybe, he's one of the special guru-type coaches who makes his budding superstars eat cumquats and practice fencing to improve their tennis? Not quite.

For the last twenty years, Tantalo, a Bridgeport native, has been a tennis professional. He has spent most of his tennis career in Orlando, Fla., and has become a well-known pro in the area.
In fact, he refutes the theory that you have to begin the game at a tender age to learn it. Consider that he never played tennis until he was 50 years old and became a professional at age 55. Until he decided to change careers, he was a public accountant and consultant to small businesses in the Hartford area.

Now nearly 72 years old, he has turned to writing about the game. He took six years to complete "USA Tennis Course," an instructional book that he published himself in May of 1986. It has sold about 150,000 copies,* he says. In the B. Dalton Bookseller chain, the book has sold well in the stores where Tantalo has appeared personally, says Lisa Connelley, spokeswoman for the chain.

"Tantalo has been here three times and he always sells a lot of books when he is," says Paul Johnson, manager of the B. Dalton store in the Hartford Civic Center Mall. "He's a great salesman."

The language is simple and clear and stresses the mental aspects of the game. "USA Tennis Course" is more pragmatic than "The Inner Game of Tennis" which became a best seller about 15 years ago. Tantalo wrote the book to appeal to both the amateur and the professional, and his wife, Anne, drew the illustrations to accompany the narrative.

Tantalo says he had two basic reasons for writing an instructional book: to demonstrate the simplicity of the game and to dispel the elitist image of tennis.

"The sport has been good to me and I want to give something back," Tantalo says. "People are dropping out of tennis since the late 1970's. It's a beautiful game; a lifetime sport that families can play together."

Tantalo thinks people find tennis difficult to learn because they take a few lessons once a week and expect to learn how to play and tennis professionals don't teach the game well.
He points to himself as an example of the person with average athletic ability who has learned to play tennis well. He says he learned despite his size-13 feet trying to get in the way.
"You don't learn the game going for a lesson once a week," he says. "If you went to school once a week to learn everything you had to, it would take you 14 years to get out of first grade." He recommends if possible, scheduling lessons on consecutive days, and for periodic maintenance, review his book.

Tantalo also thinks you can improve as a player by remembering a few simple points: a tennis stroke is a natural motion you can make with little coaching; use your mind as well as your racket to play the game; have an aimpoint in mind when you hit a tennis ball; play well inside the boundaries of the court; never hit to the lines but allow plenty of room for error, and wait for the ball, as you plenty of time to hit your shot.

You can question whether you can learn a sport from reading books, but Tantalo argues that most of what we learn comes from them.

"I want my book to be a staple reference," he explains in his gravelly voice. "What I've written is true now and will be valid 50 years from now. It's the type of book you should pick up and review."

Tantalo, who left Central High School in his senior year, also wants to take the stuffiness out of the image of tennis. He thinks the game can appeal to all types of people. You don't need your own tennis court in your backyard; there are plenty of public ones around, he says.

Sitting in his brother-in-law's condominium in the North End, Tantalo holds a tennis racket in his large hand. Dressed in a blue sweatsuit outfit, he looks as if he just walked off a tennis court. These days he has little time for playing tennis, however, devoting most of his energy to promoting his book.

He often works 18 hours a day, at book signings and appearing on television and radio shows from Florida to Connecticut. Hard work is what Tantalo likes. It's the way he has approached everything he has done and shows no sign of slowing down. For his next project, he plans to write a book to teach professionals how to instruct tennis lessons.

As Tantalo sees it, tennis is a simple game, but most people still don't know it.

The Telegram, January 11, 1988, Bridgeport, CT.
---
Can't play? Learn game by the book.
By Joey Johnston, The Tampa Tribune
Can't play tennis, you say? You've tried and it just doesn't work? Meet Victor Tantalo. Read his book. Then watch your game develop.

Got an excuse? Forget it. Because if Tantalo can do it, so can you.

Tantalo, an overweight businessman at the time, first picked up a racquet at age 50. At age 55, he became a teaching professional. Now 72 and a resident of Orlando, Tantalo's passion is still tennis.

"It's a great game, a lifetime game," said Tantalo, who will be appearing at the University Square Mall B. Dalton Booksellers store today through Sunday. "But I grant you, if you don't know what you're doing, tennis is not fun. Let's face it, a tennis court is on a barren piece of land. If you ski, you can enjoy the snow. If you swim, you can enjoy the beach. If you golf, you can enjoy the nature and the surroundings.

"But if you play tennis and you don't know what you're doing, you're looking at a lot of anchor fence. And what fun is that?"

Tantalo maintains that learning tennis is based on the same principle as learning algebra or auto mechanics. So it makes sense that his 202-page book, USA Tennis Course ($24.95 hardcover, $14.95 paperback) reads like a textbook. Step by step, it covers all phases of the game.

"Even if you don't have a coach, this book will program you to become a better player," Tantalo said. "The book is set up so that any problem, tactic, stroke or psychological aspect of the game can be looked up i the index. It's like using a dictionary."

The principles of the book can be applied to anyone -- from the novice to Ivan Lendl.

"Think about this: The principles that are used in tennis have not changed in the last 114 years," Tantalo said. "That's amazing. It's just a matter of learning these principles, then applying them. So many people will take a lesson, then go out on their own and they've forgotten most of it. Others try to learn the game through trial and error and that's not right either.

"Learning to play tennis is not any different than training people to do anything. What is coaching anyway? Just constant little reminders. The book is simply a reference for you to keep reminding yourself of all the skills involved in tennis."

In keeping with the textbook motif, Tantalo said his book is becoming quite popular on college campuses. So far, 37 different schools have placed orders for it.

"People in the academic world know this must come to pass if tennis is to have a fighting chance to become a popular sport," Tantalo said. "I expect there will be resistance to this idea. There is always resistance to new ideas."

The USA Tennis Course is amazingly understandable. One of the Tantalo methods is to utter the words, "Wait...Now" before executing a shot. The idea is to wait as you are judging the ball when it moves toward you, then executing the shot when the ball arrives in the hitting area.

Players are sometimes too early or too late.

"Wait....Now." Sounds almost too simple.

"Try it and see what happens," Tantalo said. "It works."

Even if you don't aspire to be a proficient player, Tantalo said the book is still valuable.

"We tell everyone to go through the book from beginning to end," Tantalo said. "At the very least, it will increase your understanding and enjoyment of the game when you watch it on television. It's nice to be knowledgeable about what you're watching.

"People should never, never, never stop using the book. You should use it every day of your playing life. It's just like a coach reinforcing the same idea. This book can help you every day."

The Tampa Tribune, August 18, 1988
---
73-year-old teaches tennis by the book
By Jim Martz, The Miami Herald
Can you play tennis by the book? Victor Tantalo is convinced you can in the privacy of your home without breaking any lamps or driving the dog crazy.

In his book USA Tennis Course (USA Publishers, $24.95 hardcover, $14.95 paperback), he sounds like Ed McMahon talking to Johnny Carson when he writes, "Everything you'll ever need to know about tennis is here."

Tantalo, who lives in Orlando, is not your typical teaching pro. He doesn't run an academy; he doesn't sit in the friends' box at Wimbledon to watch his pupils on center court.

He is 73 but looks several years younger. He didn't take up tennis until he was 50, about the time he retired after almost 30 years as a management consultant. Five years later he became a teaching pro, which led to writing a simplified way to learn the game.

"Courses hundreds of times more difficult than tennis are taught from books. Tennis should be taught in the same way," said Tantalo, who will give seminars at the first Conference on Sports Psychology for Coaches Thursday through Saturday at the Hyatt Regency in Miami.
The book has 25 lessons written in simple terms and diagramed by his wife Anne. Dozens of colleges have adopted the course for classes.

Tantalo claims that with his book you can teach yourself how to play without taking lessons. Will Hoag, former president of the Florida section/U.S Professional Tennis Association and pro at Coral Ridge in Fort Lauderdale, disputes that.

"If that's the case, I could read a book and do brain surgery," Hoag said. "If you don't take lessons, no one critiques you to tell if you're doing it right. I was self-taught, but I had to have someone re-teach everything to me. I saw the importance of lessons."

The Miami Herald, June 6, 1989