STUDY GUIDE AND RESEARCH ACTIVITIES

Download this instructional "STUDY GUIDE" to use as a resource for the classroom, home study, or to increase your own personal knowledge.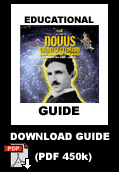 Special Feature:
Learn Tesla's techniques
for making better use of your
imagination (published in
American Magazine in 1921).


---
RESEARCH ACTIVITIES (for Students grades 7-12)

focus : WHAT MAKES A GENIUS... A GENIUS?

OBJECTIVES

Use the web to research and create a presentation about "GENIUS" that includes text and images based on the questions below (we recommend Google.com).

presentation tip: Google has an "images" tab to find relevant graphics.

QUESTIONS TO RESEARCH

What is genius?

Can anybody become a genius?

What are the characteristics of genius?

Can you measure genius?

Why was Tesla called a genius?

Why was Tesla called a "Mad Scientist"?

Why did so many people call Albert Einstein a genius?

Is Thomas Edision a genius? How did he create so many inventions?

Was Charlie Chaplin a genius? Why was he deported from America?

Did Keith Haring's subway graffitti show he was a genius?

Why was Pythagorus such a genius?

Was Mozart born a genius?

What is a kook? Why do some geniuses qualify as kooks?

Why is Leonardo Da Vinci so famous for his "Mona Lisa"?

What is the story behind the lifelong quarrel between inventors Thomas Edison and Nikola Tesla?

Should Galileo be referred to as a genius? Why or Why Not?

How would you define "Genius"?

Why are Madman like Hitler and Mao said to have Genius?

Is Bill Gates a Genius?

What makes someone able to become a Genius?

---
ADDITIONAL ACTIVITIES AND PROJECTS

Create a chart of your top 25 people who have Genius.

Create a presentation about your favorite Genius.

Create a picture book "What is Genius?"